Popular mens hairstyles lists never seem to end and there are lots and lots of them popping up every now and then. New hairstyles for men keep coming and the options are literally endless. Here we have described some of the best mens hairstyles for 2020 that will allow you to keep flaunting your style statement year round and you'll literally love it. Categorized based on the hair length, let's take a look at some of the best choices you can make.
Most Popular Men Hairstyles – Short Hair
Short hairstyles for men are always in fashion and offer a chic and clean look overall. You keep in style and have all the options from spikes to mohawks and flat top haircuts. It's just the matter of deciding which look you'd like to go with.
1. Short Spikes for Men
Source: Pinterest
Check out this beautiful David Beckham style and see how cool those short spikes look. The textured look is just awesome and it's very much in trend these days. You can also flaunt this celebrity haircut on your special day.
2. Short Length Textured Haircut For Guys
Source: Agusdeasis
Textured haircuts are best worn by men with short hair. This beautiful look is complemented by a side fade and a beautiful beard. The beard looks somewhat disconnected from the sides due to that faded look.
3. Taper Cut with High Fade
Source: Supreme_clientelle79
This taper cut features a high skin fade and beautiful spiky top styled with a styling product. It looks gorgeous with a nice complementing hard part.
4. Buzzcut Plus Shape Up
Source: Thalifeofbandit
Buzzcut never goes out of style and it's really a wonderful way of styling your short hair. If you want to take this look up a notch, combine it with a beautiful beard.
5. Buzzcut + Shape Up + Disconnected Beard
Source: Elnegrobarbershop
If you are a fan of buzzcut, this look is certainly for you. Check how cool it looks with a shape up and disconnected beard.
6. Faux Hawk Haircut
Source: Clehairbyel
Faux hawk hairstyles can't get more stylish than this one. Combine it with a beard and you're up for a cool look for any occasion.
7. Fade Taper Undercut
Source: Akmaltamo
This is one of the best mens hairstyles with side swept locks at the front combined with a beautiful taper fade undercut. It really makes for a beautiful hairdo.
8. Slicked Back Short Haircut
Source: Nickdarke1
You can always get as creative as you like with short hairstlyles for men and this one is a cool example of that. A clean undercut on the sides and slicked back hair on top, you really are up for a gorgeous look overall.
9. Ivy League Short + Medium Haircut
Source: Kollgeorge
Ivy league haircut is amongst the popular mens haircut that can be worn with just about any hair length. Here we have an example of this beautiful hairstyle with medium length and short length hair. The stubble complements the look beautifully as well.
10. Caesar Cut
Source: Cathita_muaze
Caesar haircut is a popular choice for boys in their teenage. And this one with faded sides is a cool example as well. Wear it with a beautiful chin strap and you'll surely catch the attention of girls around you.
11. Caesar Cut with Little Spikes
Source: Chantry.l.knox
If you don't want to keep your caesar haircut too short, you can try it with short-to-medium length hair as well. To make it look even more different, try a bit of spiky look.
12. Brushed Up Hairstyle
Source: Leebug13
This brushed up hairstyle is a cool and formal look for any occasion. Sides are kept short to complete the look.
13. Side Part Pompadour
Source: Marko_barber_razor
Side parted pompadours are always rocking and so is this cool one. There's a cool stubble with disconnected sideburns. Overall length is kept short to make it look more formal.
14. Short Back and Sides with Back Brushed
Source: Rysewell15
Short hair look cool when brushed back elegantly. Complement this look with short sides and back and a beautifully grown beard, you'll have one of the best mens hairstyles at the end for sure.
15. Cool Spiky Men's Haircut For Thick Hair
Source: Emiliomenegattihc
This cool and spiky haircut for men stays true to its name and gives you that ultimate cool vibe. The undercut makes it look different and unique with a beautiful disconnected beard.
16. Short Hair Plus Cropped Fringe
Source: Twobeatbarber
Fringes are always a great way o styling short hair and this one with cropped fringe really gives a cool vibe overall. Such mens haircuts usually have short hair with faded undercut. The guy here rocks it with a beautiful stubble.
17. Blunt Cut Fringe with Skin Fade
Source: Lianos_urban_cutz
This blunt cut with hard parted undercut creates a cool vibe overall and is perfect for just about any occasion.
18. Low Fade with Short Fringe
Source: Credo_colorhair
Low fade haircut with a fringe and textured waves on top. This is your cool yet formal look that is complemented beautifully by a wonderful chin strap beard. So, go for it and you'll surely love the look.
19. Brush Cut
Source: Klaxonhowl
This brush cut is a cool example of flat top hairdos. Faded sides and no beard, make for a clean look overall.
20. Short Textured Haircut
Source: Lianos_urban_cutz
The hair on top is not so short as you'd have expected but can still be classified in hairstyles for short hair. The beautiful undercut and a dyed, disconnected beard create a wonderful appearance.
Most Popular Men Hairstyles – Medium Hair
Now that you have a few short hair styles that you can go with, let's move onto medium length hairstyles. They can be equally stylish and the options are endless as well. So, let's take a look.
21. Medium Length Textured Haircut For Guys
Source: Agusdeasis
Medium length textured hair on top, this hairdo can be styled to perfection simply by rolling your fingers through. The beautiful disconnected beard is there to complete the look.
22. Side Part Medium Haircut
Source: Best_of_hair_style
Side parted medium length hair swept to a side in a casual manner, the look is just amazing and that fringe falling over is so cool. The beard gives it a stylish vibe overall.
23. Side Parted with High Fade
Source: Best_of_hair_style
Medium length hair falling over to a side and covering the undercut is really something amazing. You can never match the stylish look it creates and a cleaned shave makes it even more prominent.
24. Long on Top, Short Sides & Back Hair
Source: Rosieauldhair
Combing medium length hair backwards is something not many of us try. However, it's still a wonderful look that that you can wear with short sides and a cool beard.
25. Short Side with Silk Burshed Back
Source: Vividwallace
This is one of the best mens hairstyles with faded sides and brushed back hair on top. The complementing chin strap looks cool on teenagers.
26. Spiky Low Fade with Back Design
Source: Artcadia
Low fade haircut with a bit of spiky touch on top, this is a perfect style to achieve for a cool vibe. The handlebar mustache with a beautifully trimmed beard is something that you wont find anywhere else.
27. Low Fade with Medium Fringe
Source: Agusdeasis
Low fade haircut with a medium fringe on top styled with a spiky touch, this look is gorgeous for young men. And if you have beard growing up, you should definitely go for this look.
28. Comb Over Fade Haircut
Source: Agusdeasis
This comb over hairstyle looks beautiful as it is swept to a side and there's a hard part to complete the look with faded sides. The disconnected beard adds some more elegance to the overall style.
29. Longer Natural Flow Hairstyle and Short Sides
Source: Hairstyledmen
These mens hairstyles with longer hair and natural flow show exactly how you can style different types of longer locks on top with short sides. Make your pick and you'll be good to go.
30. Medium Length Curls with High Fade
Source: Luluprobarberuk
Growing curly hair can be challenging and styling them to perfection is even more challenging. So, if you have tried different looks already and don't seem to be satisfied then this is the look you should go for. Keep it messy and medium length on top and that fade complements the look beautifully.
31. Side Part Pompadour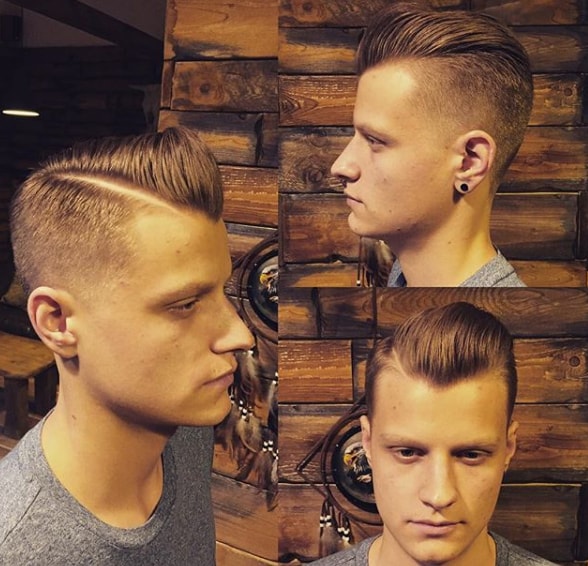 Source: Thunderwood.tattoo.barber
Pompadours are always considered among elegant mens haircuts and this one stands true to this perception. Hard side part with beautiful fade and slicked back medium length hair on top, it really is a timeless look.
32. Wavy Haircut with Low Fade
Source: Lianos_urban_cutz
Beautiful waves on top, this is your funky look if you want to have something different and unique. The beard completes the look with a high fade undercut.
33. Short Pompadour
Source: Barberoguz
This short pompadour gives you a clean look and is a perfect hairstyle to wear on just about any occasion. It's formal and it's chic. Combine it with a beautiful chic curtain, and you really can't ask for anything better.
34. Medium Length Haircut For Men With Natural Flow
Source: Sasha.for.men
There's a huge variety of medium length mens hairstyles and this one is a cool look among them. Quite old school stuff, this hairstyle requires you to keep your hair swept to a side and let them flow naturally with a beautiful side fade.
35. Medium Curl with Low Fade
Source: Criztofferson
Low fade always complements medium length hair beautifully and it's a perfect style to go with curly hair as well. Check out these medium curls on the top and a disconnected beard with low fade to complete a beautiful look.
36. High Fade Plus Loose Pompadour
Source: Tyas_kingcuts
A beautiful variation of the popular pompadour hairstyle, this look is timeless. Loose pomp doesn't require you to keep your hair styled with a product to stick in place. Rather, you can simply comb your fingers through and combine the look with an amazing high fade.
37. High-Low Fade Surgical Line Plus Long Fringe
Source: Barberlessons_
This high-low fade with a surgical line really creates a perfectly unique vibe. Combine the look with a unique beard and you can't ask for anything better.
38. Long Hair Brushed Back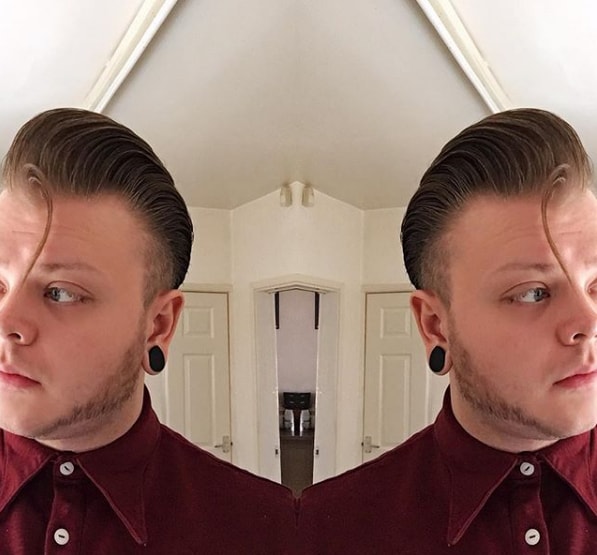 Source: Thatcatdomino
You must haven not seen this beautiful look anywhere else. Long hair on top creating a slanting look with a fringe falling on the face, that's simply elegance personified. Want something even better, complete the look with a cute variation of mutton chops beard.
39. Short Hair Brushed Back
Source: Ambarberia
Brushing back your medium length hair really make for a wonderful hairdo for men. There's no parting and the hair is raised from the point where a low fade undercut starts. Overall, it's a cool look to achieve for anyone looking for something more formal.
40. Medium Textured Haircut Plus high Skin-Fade
Medium length textured hair combined with a high skin fade gives you an elegantly casual look that you can sport everywhere quite easily. The look is just amazing.
41. Modern Faux Hawk with Low Burst Fade
Faux hawk hairstyle is a beautiful look to have for medium length hair. It's funky, it's stylish and it's beautiful. The best part is that it can be styled in so many different ways. Check out this variation with a spiky touch towards the back and a side swept look at the front. There's a slight stubble to complete the look.
42. Short Sides and Medium Hair On Top
Source: Barber_djirlauw
With short sides and medium length hair on the top, this beautiful look gives you more of a pompadour hairstyle touch.
42. Hard Part Pompadour with Mid Bald Fade

Source: Fava_barbershop
Hard parted mens hairstyles can be styled in as many ways as you might like. Be it a quiff or a side swept look or even a short pompadour, the choice is yours. Check out some beautiful ideas in the image above and you'll surely find an inspiration for yourself.
43. Messy Medium Length Hairstyle
Source: Joshlamonaca
Another beautiful medium length mens hairstyle, this look is messy on top and overall it's just amazing. You can't ask for anything better.
44. Slicked Back Hair
Source: A.r.denning
If you're looking for something more formal for your hairstyle, this is the look that you should think of adopting. The slicked back with an undercut is really something worth looking into.
45. Low Fade with Natural Hairs
Source: Barbeirosbrasill
This low fade haircut with a spiky look on top is really something modern and chic. Hair is allowed to move freely at the top with quite a casual look. Undercut complements it beautifully.
46. Top Knot Undercut with Tiny Ponytail
Source: Abz_sharabi
Topknot undercut is a look of modern days and this guy has really worn it stylishly. Combine it with a beautiful beard and the end result is something really amazing.
47. Mid Fade and Back Brushed – Medium Hair
Source: Barber_hirs_styles
If you are interested in more of a formal look then nothing can give you that better than brushed back hairstyle. The medium fade completes the look and make you look gorgeous.
48. Short Sides Textured Top
Source: Cejay53
Textured hair on top keeps you casual looking and the faded sides make a perfect combo.
49. Quiff Haircut
Source: Theprosaics
Quiffs are always stylish and elegant and you can wear them on any occasion as you like. Overall, a quiff hairstyle gives you a perfectly clean look and maintains your personality beautifully.
50. Long Side Parted Men Hairstyle
Source: Shaanu_rustum
This casual looking hairstyle is one of the best David Beckham Hairstyles that keeps medium length hair styled beautifully. Just roll your fingers through and you're up for a beautiful hairdo.
51. Side Part Combover
Source: Apthairsalon
Comb over hairstyle with a perfect side part and a clean undercut is all you need for a perfect look for any event.
52. Disconnected Undercut
Source: Archzinecom
Long hair on top and a beautiful disconnected undercut, you can't ask for anything better from this beautiful hairstyle.
Most Popular Mens Hairstyles – Long Hair
If you're fond of long locks, there are lots and lots of mens hairstyles available as well that are specifically tailored to long hair. Here we have listed some of the best options for a perfect look. So, let's get started.
53. Simple Long Hairstyles for Men + Beard
Source: Hairstyledmen
This hairstyle is all about simplicity and casual looks. The long hair is swept to a side and allowed to flow freely. Complement the look with a beard and you have a wonderful haircut.
54. Grown Out Layers – Brown Color
Source: Taboohaircare
Long hair is usually cut in layers to have a perfect look overall. This hairdo depicts just that as there are grown out layers complemented with a beautiful chin curtain beard.
55. Shoulder Length Wavy Hairstyle for Men
Source: Thefashiontendences
Love to grow your hair wildly? try this carefree look by growing your hair to shoulder length. You'll love the final look for sure.
56. Silky Long with Simple Ponytail
Source: Thefashiontendences
If you have silky locks that you love to grow longer but still want to maintain a neat and clean look then you must try out this beautiful mens hairstyle. A simple ponytail is there and a beautiful bushy beard complements it.
57. Long, Messy and Wavy Hairstyle
Source: Thefashiontendences
Love to grow your curly locks longer? This look is just perfect for you then. Sweep the locks to a side and let the curls flow through to the ends.
58. Long Length Side Part Haircut
Source: Morenoruda
Longer hair give you the liberty of styling them in just about any way you like. Take this wonderful example and you will see how you can play with your beautiful locks.
59. Long Comb Over – Shaved Side
Source: Hairimplantmaster
Long comb over hairstyle with a shaved side gives you a combo of beautiful long locks and a neat look. You can style it in whatever way you like.
60. Perm Crul Hairstyles
Source: Reflexhairstyling
Perm curl mens hairstyles is all about carrying your curly waves properly. You can grow them long and let the volume drive your appearance. Make it shoulder length for a perfect look.
61. Long Side Parted Haircut
Source: Guicoliver
Long and side parted, you don't really need a better explanation for this one. Overall, it creates a beautiful vibe.
62. Side and Back Swept Mane
Source: Matcastles
This side and back swept mane is how you style your long locks. Complement it with a stubble and you don't really need anything else for a perfect look.
63. Long Dreadlocks and Goatee
Source: Waltermunoz_surf
If you have curly, African hair, grow them into dreadlocks and you will have a perfect look at the end of the day. Combine it with a beautiful goatee and let your look stand out.
64. Long Hair Undercut Viking Chic
Source: Mikeyyyyyyy_
Well, this is one of the best mens hairstyles for longer locks. Combed over to the back and tied into a cute little pony, this hairstyle is complemented beautifully with an undercut and a disconnected beard style.
65. Flat Top – Long Hair
Source: Mr_ricorod
Flat top hair can be as good as ever and give you a beautiful vibe for longer locks. Try this with a beard and you'll love the final look.
66. Extra Silk Long Hairstyles for Men
Source: Armandhenrich
Silky long locks can be grown as long as you may like. Just let your hair flow freely and go with the wind and complete the look with a short beard.
67. Extra Long with Long Wavy Ponytail
Source: Lordsiniestro
The ultimate look for longer locks and a little bit same with Ragnar Lothbrok Hairstyle, tie it into a beautiful wavy ponytail and rock the hairstyle.
68. Low Fade with Side Brushed
Source: l_4r3al
Style your longer locks to a side with low fade hairstyle and achieve this perfect look as in the picture above. It can be worn both in formal and casual styles.
69. Long Curly Hair
Source: Tarzanaaron
Looking for a perfect hairdo for curly locks? Well, just grow them as long as you can and let them flow as they like. It's a rocking look and perfect for parties and hangouts.
70. Low Man Bun
Source: Bunsandbeards_ig
None of the mens hairstyles for long hair can be as good as a man bun. Just tie them loosely and low towards the back and complement the look beautifully with a roughly grown beard.
71. Samurai Hairstyle
Source: Alexandros_stanios
Another elegant look for longer locks, this beautiful hairstyle gives you a clean and chic vibe. Wear it elegantly whenever and wherever you want and complement it with a well-trimmed beard.
So, these are the different mens hairstyles options for short, medium and longer locks. You can wear just about any look as you like and create a perfect vibe overall. It's chic, stylish and elegant!